Many production supervisors know that industrial steel work platforms (mezzanines) are the best solution to fully utilize existing overhead space and operate more efficiently and profitably. Mezzanine installation can give you valuable office, storage, or manufacturing areas at a fraction of the cost of new construction. But did you know that they also qualify for accelerated 7-year capital equipment depreciation, as opposed to the 39 years normally associated with permanent building improvements?
It's true. A quality Wildeck mezzanine is a great decision to help you take advantage of unused space, and, with a significant tax depreciation advantage, it gives you the flexibility you need to respond to market changes.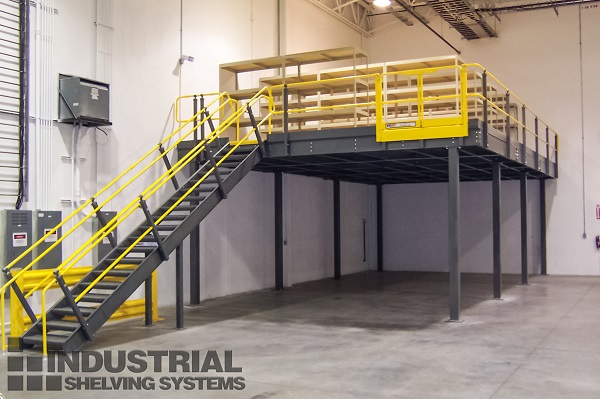 Our industrial work platforms can be installed in new or existing facilities and can add valuable space for manufacturing, material processing, or storage. They are customized for each application and designed to meet specified codes and OSHA safety requirements. And, Wildeck mezzanines use secure bolt-together connections, and can be dismantled and relocated.
At ISS, our work platforms meet stringent industry standards and specified national, state, and local codes and are specifically designed to meet your size, load and span requirements. Our expertise and product quality ensures that you receive more value today and for years to come. Give us a call at 1-800-875-6201 or shoot us an email at info@industrialshelving.com to learn how we can build a custom mezzanine solution to meet your needs.