Some time ago we assisted one of our local customers, a Saint Louis steel foundry, in creating a custom solution to an unexpected problem. When a visit from the local fire marshal required them to replace their built-in wooden bin shelving, they were faced with a tough question: How could they meet fire code updates while housing their large inventory of heavy-duty hardware and pipe fittings? This small fire code issue presented a tough challenge. Unable to locate a standard bin unit with the strength and opening sizes their items required, they turned to Industrial Shelving Systems. We designed these custom heavy-duty bolt bins for their plant maintenance department, meeting the requirements of the local fire marshal and exceeding customer expectations.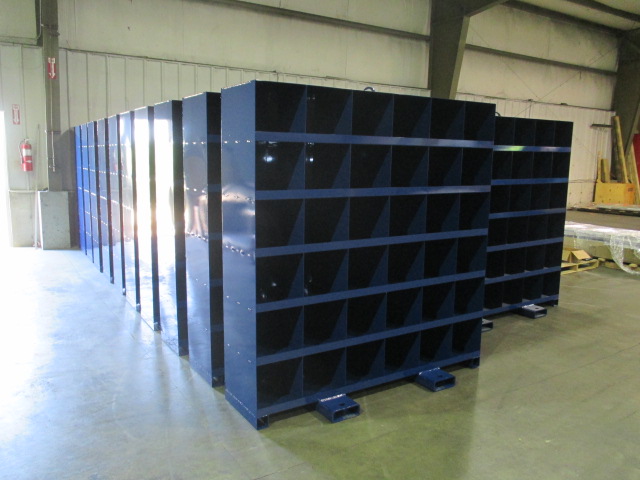 At ISS, we are always innovating and striving to meet our customers' unique storage requirements. Our bolt bins are available in a variety of bin opening sizes and overall dimensions. The most common units include 12"Wx12"Hx18"D openings and have a built-in 2" front lip. We've created custom opening sizes from 6"x6" to meet a variety of storage application.

Our heavy-duty fork pockets allow for safe and easy re-positioning inside your plant, and the all-welded 12-gauge construction will hold up for a lifetime, even in the harshest of industrial conditions. These custom bin units got their start working in steel mills and are a great solution for storing large heavy hardware, pipe fittings, and many other parts that may be too bulky or too heavy for typical commercial-grade bins on the market.

If you find yourself requiring a heavy-duty solution for your bin storage application, please contact Industrial Shelving Systems and learn more about the custom bolt bins that we can build to meet your exact needs.
.