A mixture of small and large parts can often cause unique storage issues for dealers and warehouses. With sprawling storage footprints, and costly time hold-ups from product search, this type of mixture creates a range of inefficiency that can be difficult to deal with. Thankfully, Industrial Shelving Systems offers many different custom solutions, such as drawers in shelving, to tailor a specific solution to accommodate the wide array of parts sizes in your facility. These modular drawer units can reduce your storage footprint by up to 60%, get your inventory organized, reduce your part retrieval time, and secure your items.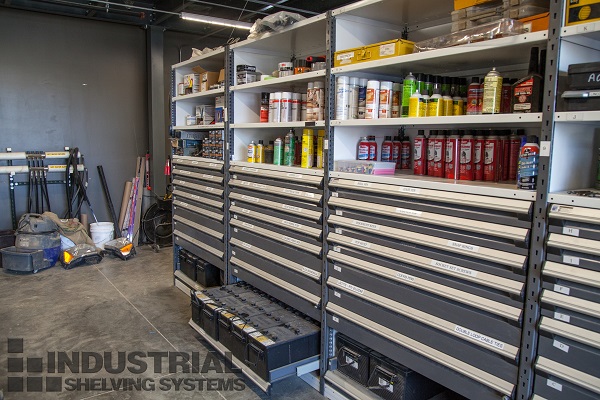 Parts rooms can have everything from heavy bulky items to tiny fittings. Industrial Shelving Systems installs Rousseau Drawers in Shelving to accommodate the wide array of items. Cased goods and aerosols can be stored on the top shelves, modular drawers are used for the small and medium sized parts, and a roll out shelves are used to ergonomically store the heavy items such as batteries. Each drawer and roll out shelf is rated at a 400lb capacity!
Industrial Shelving Systems also offers layout assistance to maximize your storage footprint and efficiency in your facility. Each one of our project managers is trained in AutoCad to come up with the optional layout and design for your space. Our expertise and product quality ensures that you receive more value today and for years to come. Give us a call at 1-800-875-6201 or shoot us an email at info@industrialshelving.com to learn how we can build a custom solution to meet your needs.