Posted by Tom Compton on 2nd Mar 2022
Pallet racking is a type of warehouse storage system that is commonly used to store and organize palletized goods. Pallet rack styles include Selective Rack, Drive-In/Thru Rack, Flow Racks and numerous accessories for the different styles of racking. Pallet rack parts names can be confusing, so we have put together this guide to help you select what part you need.
---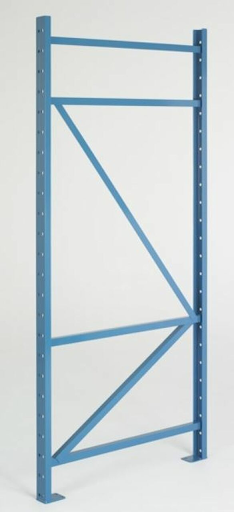 Frame Upright: The frame upright is the vertical end of the pallet rack that is comprised of a front and back column with welded front-to-back bracing, typically at a 42" depth for standard pallet storage. Most common design is the teardrop style; however, several other styles are also available. Most uprights are roll formed, but heavier loads may require structural steel uprights that are also readily available. Also commonly referred to as pallet rack frame, upright frame.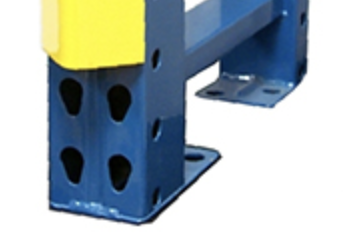 Base Plate: A base plate is a metal plate attached to the bottom of a pallet rack column. It helps to distribute weight evenly and provides an anchor point for securing the racking to the concrete floor. Standard base plate size is 3"x5" .

Heavy-Duty Base Plates: A heavy-duty base plate is typically larger than a standard base plate, and if required, needs to be specified prior to placing an order for racking as these items are made to order and welded on during the manufacturing process. Engineers or local ordinances can require larger, heavier gauge base plates for permitting and seismic concerns.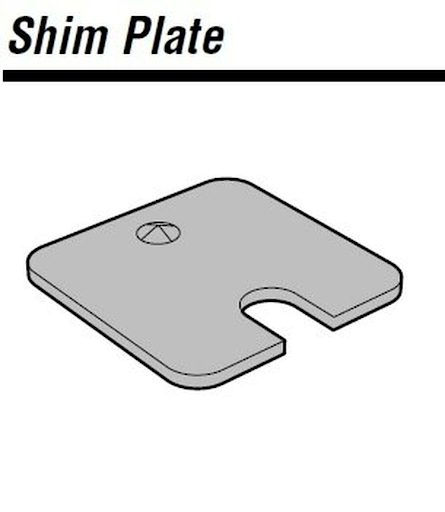 Shims: Shims are simply metal spacers used under the base plate to level pallet racking during the installation process. Since few floors are perfectly flat, shimming of the racks is frequently required. A vertical tolerance of 1/8" in 4 feet is generally acceptable. Most pallet rack manufacturers offer shims with anchor hole patterns that match their pallet rack upright base plates, so it is ideal to source shims made by the manufacturer of the pallet rack you are using.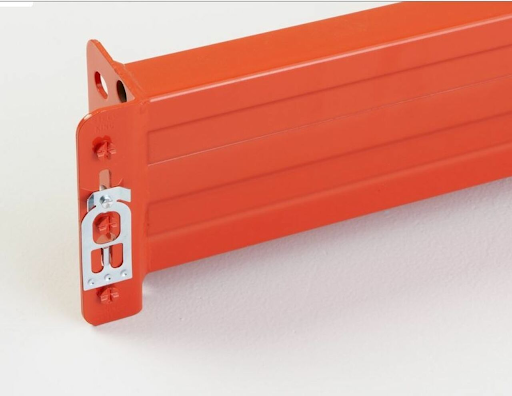 Beam: A beam is the metal horizontal support that creates each pallet storage level. Two beams are required for each beam level. 8', 9', 10' and 12' are probably the most common sizes, but pallet rack beams are available in a wide variety of widths and capacities to meet your specific storage application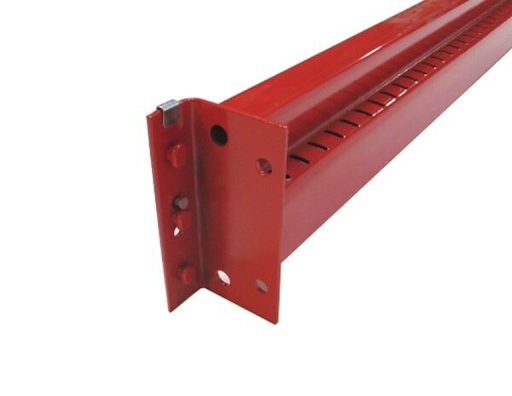 Step Beam: Step beams are the most common beam type for standard teardrop style racking which is roll formed pallet racking and can accommodate loads of up to approximately 7,000 lbs. per level, depending on the step beam size and gauge. The step of the beam is usually 1-5/8" and is designed to allow metal pallet supports or wire decking channel supports to rest inside the step, allowing for a flush pallet storage surface where the pallets can rest on top of the beams to evenly distribute the loads
Structural Beam: These are higher capacity beams that are a C-Channel design as opposed to the lighter duty roll-formed step beams. Structural beams are usually a bolted connection to a matching structural upright. Structural beams are typically used in heavy-duty rack applications. They are also commonly used for outdoor and even freezer or refrigerated rack applications, since they are superior to the roll-form style of racking that can rust from the inside in these types of environments.
Box Beam: A box beam is a roll-formed pallet rack beam that is similar to the step beam, but does not have the step. These beams are not very common.
Safety Clip: A safety clip is a device used to secure the beam to the upright. There is typically one safety clip in each end plate of the beam and as the beam is snapped into place during assembly of a rack, the safety clip engages to prevent the beam from accidentally being disconnected from the upright. Some clips are built-in to the endplates, and others are a separate component. Most manufactures include these clips with their beams, but if your racking is missing these parts, you should find replacements immediately.
Rigid Row Spacer: A rigid row spacer is used to maintain the spacing between back-to-back rows of pallet racking. They are bolted upright to upright and are available in several lengths of which 12" is probably most common.
Wall Ties: Wall ties are similar to row spacers, but are used where a single row of rack has its' back against a wall.
Wire Deck: Wire decking is the most common decking material for pallet racking applications. This wire decking provides a safe and stable platform for pallet or case storage and is designed to allow for maximum air circulation and sprinkler water disbursement if a fire occurs. Available in many sizes and weight capacities.
Waterfall Wire Deck: This style of wire decking is designed with "waterfall" front and back edges that rest over the beams. This provides a smooth edge and helps prevent snagging when loading and unloading pallets or case goods. Standard waterfall style decks have U-Channel supports welded into the underside that simply drops into the 1-5/8" step of the standard step beam for support and an easy installation.
Flared Channel Wire Decking: Flared channel wire decking is the same wire decking as the waterfall style deck, but the built-in support channels have flared edges at the front and back for use on structural or box style beams that do not have the 1-5/8" step. Standard U-Channel supports will not work on structural or box beams.
Inside Waterfall Wire Deck: An inside waterfall wire deck has the waterfall front and back edges rest inside of the 1-5/8" step of the beam and leaves the beam's face unobstructed of wires. Great if your labeling system required the full face of the beam.
Perforated Steel Deck: An alternative to wire decking, perforated steel decking provides more surface area to make loading and unloading smoother, especially for hand loaded carton/case picking applications. While at the same time, maintaining up to the 50% open space required for proper sprinkler and fire suppression.
Punch Deck: This is a name brand manufacturer of perforated steel decking.
Angled Slope Decking: Also, known as "picking shelves" they help operations integrate slow movers into the pick line and significantly improve SKU visibility to save space and improve efficiency.
Clip-On Shelf Divider: A clip on shelf divider is a wire decking accessory for pallet racking. Available in several sizes, these dividers clip on to the wire decking to provide a vertical divider for product separation and organization.
Hanging Dividers: They allow for a division that spans the full height between beams and can also be mounted as a backstop. The hooks on each end ensure a secure fit between levels of decking.
Offset Backstop Beam: Also known as "pallet load stop beams, these are designed to prevent pallets of product from being accidentally pushed off the back of a rack during loading or unloading.
Solid Deck: Smooth 14 gauge steel surface with durable powder coated finish. 12 gauge reinforcing channels on underside fit 1-5/8" step beams. 1-1/2" waterfall on front & back edges. Each decking section has a load capacity of 3000 lb