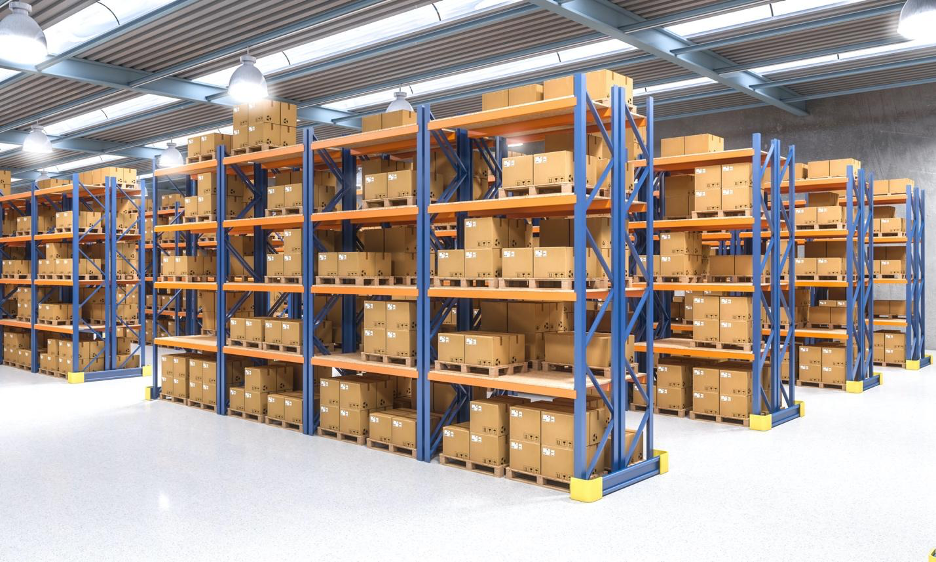 Are you investing in a warehouse racking installation? If so, it pays to get it right the first time.
One step you can't afford to skip? Securing and anchoring your pallet racks the right way. This single move is critical to ensuring the safety and security of your products, as well as your workforce.
Today, we're taking a closer look at 15 of the most common considerations to keep in mind as you consider the best way forward. Read on for the details you need to know.
1. Do Pallet Racks Have to be Bolted to the Floor?
The short answer? Yes.
According to the Rack Manufacturers Institute (RMI), American National Standards Institute (ANSI) MH16.1-2012, all pallet rack columns are required to be anchored or secured to the floor with bolts. This not only includes aisle columns, but it also extends to the interior or rear columns on all frames.
Under this specification, all columns must include a base plate, along with anchor bolts that meet RMI design standards for quality and durability.
Why are these components required?
The most obvious answer is to keep the racks upright and in place.
The base plate and anchor bolts work together to safeguard your racks against any force that occurs near the base of the columns. From earthquakes to forklift collisions, you never know when an impact could upset your setup. These components can keep your racks intact and help ensure that everyone in the vicinity is safe.
2. Floor Type Considerations
Of course, there will be certain floor types that are easier to secure a rack into than others. Industrial warehouse floors can be made of myriad materials, including:
Concrete
Linoleum
Epoxy
Vinyl Composition Tile (VCT)
Most of the time, pallet racks are anchored to concrete. In this case, there are special tools you can use to make the job easier. These include:
Concrete wedge anchors
Concrete strike anchors
Before you begin anchoring your pallet rack to the floor, it's important to make sure it can withstand the weight and pressure that you're putting on it. The considerations to keep in mind include:
The size of the hole in the baseplate
Any seismic activity in the area where the anchor will be used
The thickness of the flooring material
The levelness of the floor
The mechanical features of the flooring material
In some cases, lightweight storage racks can be installed on surfaces other than concrete (e.g. wood decking, bar grating). However, a qualified engineer must be present to review and recommend the most appropriate means for anchoring or attaching the racks.
3. Floor Slab and Soil Subgrade
Before installing and anchoring a rack to the floor of your building, it's your responsibility to ensure that the new or existing floor slab in the building is capable of supporting the loads that you plan to put onto it. In addition to storage racks, consider the fork trucks and other equipment that will be traveling across the surface.
Important slab data to note includes:
The yield strength of the concrete (pounds per square inch)
The thickness of the slab
Joint locations
The strength and spacing of the slab's steel reinforcement
The floor's levelness and flatness
Any irregularities in the slab
In addition to analyzing the slab, it's also important to consider the soil sub-grade of your facility. An engineer can measure the stiffness of the sub-grade, expressed in pounds per cubic inch, as well as its bearing capacity of the sub-grade, expressed in pounds per square foot. Especially in an earthquake-prone area, an additional soil site classification can help direct design specifications.
4. Anchoring Near Slab Expansion Joints
If you plan to anchor pallet racks near slab expansion joints, it's important to take extra precaution.
A supervising engineer should be on-site during installation to ensure that the design conforms to the required specifications. The same applies if you're replacing damaged anchors.
5. Sloped Floors
The RMI specification presumes that warehouse floors are flat. It is designed around the assumption that there is no more than .5-inch in 10 feet of height that deviates from the true parallel with gravity. In the event that you need to install and anchor racks on a sloped floor, it's important to communicate with the rack designer to ensure everyone on the team is aware of this slope and its extent.
If you install and anchor racks perpendicular to the floor, take into account the nominal loads and other forces that will be created due to the slope.
6. Older Buildings
In older buildings, there might be both seen and unforeseen issues with the floor slab. Specifically, there could be cracks in the concrete or pieces missing from the floor. These can pose a challenge to your rack design.
If you're only anchoring in a few bays, you can choose a floor location in good condition. However, when you require multiple aisles, it's important to get an engineer on board to ensure that you aren't anchoring on or adjacent to a compromised area.
7. Seismic Activity
In some cases, your rack design will require a design review to account for any seismic forces present. The American Society of Civil Engineers (ASCE) defines a specific seismic design category (SDC) to each region. If your facility is located in Seismic Design Category B and above, it faces the potential of earthquakes to varying degrees.
While the degrees, magnitude, and probability of such seismic activity will vary, it's critical to perform a design check for your particular loading check. If your facility is located in SDC A, there is not enough seismic activity present to warrant such a check. Note that seismic requirements are site-specific and your rack manufacturer should understand the following data points before beginning a rack installation:
Applicable building codes
The exact installation location
Details on the integrity of the concrete slab
Information on the properties of below-slab soils
8. Inspection and Maintenance
As soon as the installation is complete, it's important to develop processes and procedures for regularly scheduled storage rack system inspection and maintenance.
A qualified person who is intimately familiar with the rack design and installation requirements should perform these inspections. Due to their frequency of use, your storage racks should be inspected on a periodical basis to check for any signs of damage or wear and tear. An inspection should also follow immediately after any event that could possibly damage the rack system.
Individual owners can set their own inspection schedule based on their system use conditions. While inspections should be performed at least once a year, greater frequency is encouraged. Make sure to fully document the inspection schedule and all results.
9. Do I Need a Professional Engineer to Inspect Anchors?
Ideally, any rack anchoring system should be inspected by a professional engineer. This is especially the case if you make any repairs or changes to your rack storage system. If you're anchoring to any surface other than concrete, an engineer must be involved to ensure the floor system can support the rack load columns.
An engineer can reveal important details about your anchoring design, including:
How many anchors your setup requires
The brand and size of the anchor bolts you need
The number of holes to use within the base plate
While the rack manufacturer can also provide these important details, an engineer can ensure that your final design meets industry specifications. When researching rack manufacturers, look for those with the R-Mark seal from RMI on published capacity charts to ensure the product is in accordance with RMI specifications. In the case of special designs, both the R-Mark seal and a professional engineer's seal should be present.
10. Replacing Damaged Anchors
It's important to replace damaged anchors immediately. Any missing, loose, or broken anchor pose a direct threat to the integrity and safety of your products, as well as the safety of your employees.
Both the front and back upright footplate must be anchored securely to the floor. If either becomes unstable, check to ensure the floor underneath and around them hasn't been cracked or otherwise compromised before replacing them.
11. Protection From Impact (Forklifts, Pickers)
Although they're designed to resist force, your base plates and anchors are still susceptible to impact from forklifts, pickers, and other heavy-duty machinery. The aisle-facing rack columns are especially vulnerable due to their position.
There are a few ways you can protect your rack mount anchors and limit the effect of any impact. These include:
Increasing the size and quantity of anchor bolts on aisle-facing columns
Welding free-standing, steel plate column protectors to base plates
Attaching plastic, steel, or foam guards on columns post-installation
Anchoring concrete bollards or steel tubes formed into an inverted "U" to the floor via steel base plates
Bolting a freestanding guard rail to the floor a short distance away from the racking
While these measures can help protect your rack system to some extent, routine forklift driver training is still required to ensure all employees know how to navigate the warehouse safely.
12. Other Methods of Stabilization
While floor anchors are the go-to way to stabilize your pallet racks, there are other methods of stabilization to consider.
For instance, you can add row spacers at the top that link two rack units together, allowing them to essentially function as a single unit. In this way, the two racks can support one another and increase stability. There are also myriad pallet racking protectors that can help prevent instability and safeguard the racks from accidental impact.
13. Height/Base Ratio
Per the RMI, the height-to-depth (or base) ratio of a single row of pallet rack is defined as the distance from the floor to the top beam level, divided by the frame depth.
Normal, double-row anchoring is usually enough to support racks with a height-to-depth ratio of 6:1 or less. If the ratio exceeds this, the anchors and base plates require a special design to ensure they do not overturn. If the ratio exceeds 8:1, the racks require supplemental stabilization via overhead ties. In this extreme case, a professional engineer must oversee and approve the anchoring design.
14. Wall Anchoring vs Floor
While wall anchoring can be used as an alternative or supplemental stabilization method, this approach should only be considered in low-seismic areas. Even then, floor anchoring is preferred.
Why?
At any given time, forces from the building could transfer to the racks, and vice versa. Tying your racks to your walls causes both entities to become susceptible to sudden shifts and impacts. If wall ties are employed, the building engineer and rack engineer must coordinate the design and installation to ensure that any transmitted forces will not damage the rack or the structural building itself.
15. Unused Anchor Holes
Looking to install a wedge anchor into a concrete floor? If so, you might wonder how close you can install the anchor to a preexisting, unused anchor hole.
The MHI maintains that a wedge anchor can be located 3.0 bolt diameters away from an empty hole. This allows sufficient space to ensure that the pullout-capacity of the anchor is not reduced. To shorten this distance to only 1.5 bolt diameters, the empty hole can be filled with dry-pack mortar. Note that when you're planning your layout and determining the overall space required, it's best to use the larger diameter as a reference.
Ace Your Warehouse Racking Installation
Establishing the correct racking system can make all the difference in the speed, efficiency, and performance of your warehouse. Yet, a successful design doesn't happen overnight.
When you carefully consider the requirements necessary for an optimized warehouse racking installation, you can help ensure that the final product is safe, compliant, and in line with industry specifications.
Looking for industrial shelving to get your racking project started? That's where we come in.
We offer a wide variety of pallet racking systems in different widths, depths, and heights to meet any need. Feel free to browse our online inventory and contact us today to connect!